Rome, Mithridates and Asia
by Rob Brennan
Introduction
This campaign simulates the situation in and around Anatolia between approximately 90BC and 63BC where the Romans first had only a toehold in Asia but a wide range of client states and eventually Rome basically controlled the whole area. The central theme of the campaign is the struggle between the independent and Roman client states while as the game progresses Roman interest in the region will increase and more Roman generals (and armies) will be deployed there.
Players will initially take the role of the rulers of the client and independent states in Anatolia, plus one player who represents the Roman governor of Asia (and perhaps Macedonia).
The campaign emphases land tactical battles rather than diplomacy, logistics, naval etc. but there are some simple mechanisms for those things to give context to the tactical battles. To speed and automate campaign play we will use Cyberboard v3.10 (http://cyberboard.brainiac.com/) with a custom gamebox. If you know nothing about cyberboard don't panic it is free to install (donation requested though) and we will only use the most basic features of the application.
Basic Course Of Play
Players engage in diplomacy. All players simultaneously submit via email: any change in their allegiance (if non-Roman), allies dispatched and plotted moves on the strategic map. If armies meet there may be battles, province ownership is updated, check for end of turn victory conditions. If there are no battles then an updated campaign map will be circulated and all players will have 1 week to do diplomacy/submit orders for the next turn, otherwise there will be 3 weeks to allow the battle to take place, the map circulation and the new orders to be submitted.
Victory conditions
The objective of the campaign is to either be:
· the only general in Anatolia (at the end of any turn)
· or at the end of the game have the most VP for winning battles/controlling provinces. = total DBMM VP earned in battles + 10x current army morale (see later). NB these VP may be earned on both the Roman and Independent sides.
The Campaign Map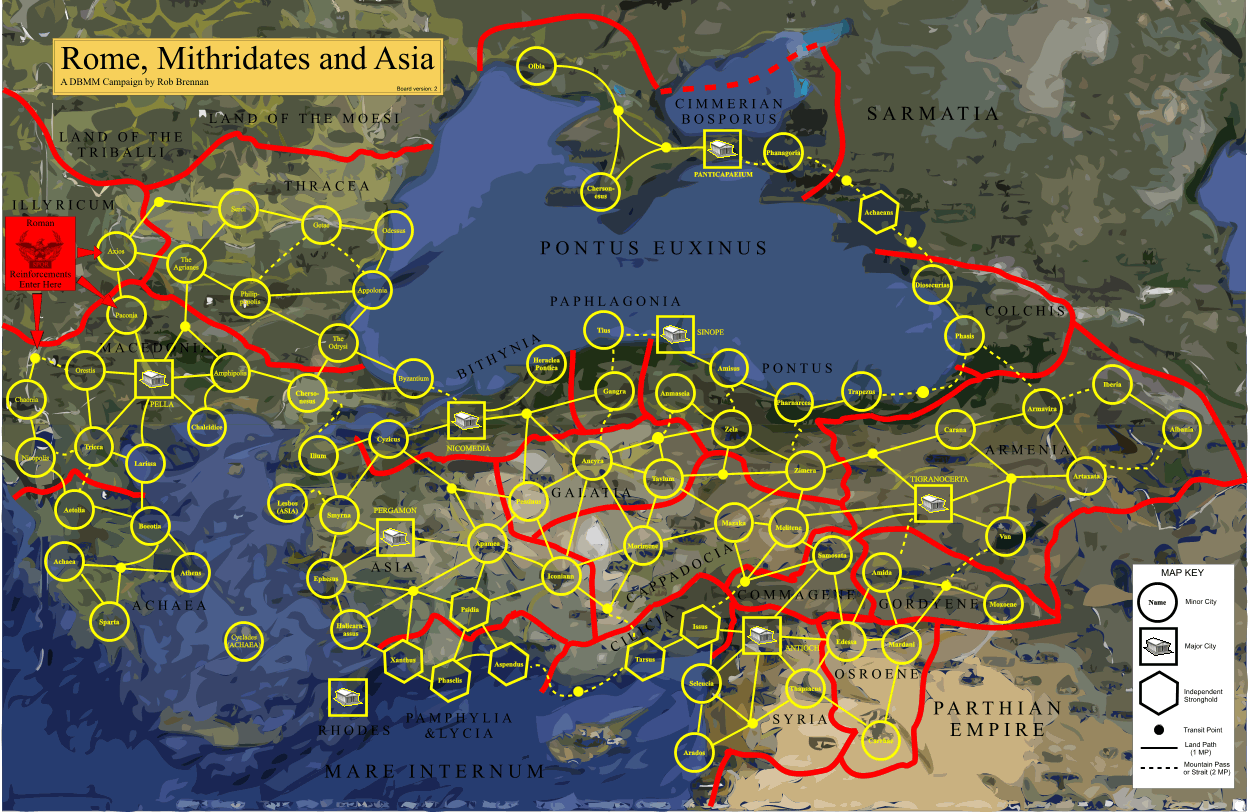 Locations on the map are capitals, cities, "transfer points" and "independent strongholds" grouped into provinces and joined by normal or higher cost movement routes. In additon there are two seas that can sometimes be used for movement.
Army Morale
Each army has a morale factor that depends on how large, well supplied, trained, rested and successful the army is. It is the only number we need to track for each army from game to game. Every army starts with 5 morale points and is stacked with a number counter in Cyberboard that shows its current Morale.
Morale is important because if an army's morale reaches zero, the soldiers will rebel and kill the commander. This results in a player returning as an additional Roman commander in 1 turns time (but it will also take them time to march from Illyricum to the action). Armies with less/more morale points than 5 are weaker/stronger than normal.
Morale Change Table
Lose 1 Morale Point:
Perform a forced march
Place minor garrisons in a province you control
Attempt to evade battle (whether successful or not) [max of 1 penalty per turn]
Suffer a minor loss in battle
Suffer a major loss in battle per 10VP gained by opponent
Have an allied command present on the side of a major defeat
Storm a city/location with a minor garrison
Exit a besieged port city by sea
Each turn besieged by an enemy (with naval supremacy, if in a port)
Besieging a city with no battle and you roll a 1 or 2
Move through an "independent stronghold" area your faction does not control
Change allegiance to pro-Roman
After fighting a battle on a transit point (due to lack of forage)
Lose 2 Morale Points:
Independent/client state player loses control of a province
Gain 1 Morale Point:
Major victory in battle
Spend a turn in a friendly province without moving or fighting a battle
(cannot to a max total of 5)
Gain 2 Morale Points:
Gain control of an additional province
Game Length
Each game turn represents a burst of activity, it could be from a few months to a couple of years. Physically we will play from 1st October with the first turn due on Friday 8th. Since the number of turns depends on the number of battles and whether the game fulfils its victory conditions, there will be a variable number of turns. We will not play in December. I expect that there will be approximately 8 game-turns played by the end of February.
First Turn Setup
List of Characters and Starting Areas:
Player Number

Leader

Starting Area

Initial Alignment

Army List
(90 BC unless stated otherwise)

1

Mithridates the Great

Pontus

Independent

II.48 Mithridatic. (Before 84BC)

2

Manius Aquillius

Asia
(Note Psidia is uncontrolled)

Roman

II.49 Marian Roman (all armies drawn from the list must include both a Galatian and a Bithynian allied command but these are not drawn from the other players. They just represent levies in this scratch force.)

3

Tigranes II

Armenia

Independent

28. Early Armenian and Gordyene (Armenian from 83 BC to 69 BC)

4

Nicomedes IV

Bithynia

Client State

II.6. Bithynian,

5

Ariobarzanes

Cappadocia

Client State

II.14 Ariarathid Kappadokian (Ariarathes III and successors)

6

Deiotarus Philoromaios

Galatia

Client State

II. 30 Galatian (90BC)

7

Mithridates I Callinicus

Commagene

Independent

II.44 Commagene (before 80BC)

8

Philip I Philadelphus

Syria

Independent

II. 19. Seleucid (80BC)

9

Caius Sentius Saturninus

Macedonia

Roman

II.48 Marian Roman except that it starts with only 2 Morale points.

10

Sadalas I

Thrace

Client State

I.48 Thracian (Lowland, 90 BC)

11

Zarbienus

Gordyene

Independent

II.28. Early Armenian and Gordyene (Gordyene)

12

Abgar I Piqa

Osroene

Independent

II.22 Arabo-Aramean (Edessa)

13

Sulla

Achaea

Roman

II.48 Marian Roman (Sulla, 87BC)

14

Macheres

Cimmerian Bosporus

Independent

II.48 Mithridatic (Before 84BC)
The minimum number of required players is 4. However in that case only use the Asia Minor part of the board.
Client States ("Friend and Ally of Rome")
"Client States" initially have allegiance to Rome. They can change their allegiance during the game. Each Roman player may "request" an allied contingents from one client state per turn, this prevents the client moving (see allies later). This cannot be refused unless the state revokes its status as a friend and ally of Rome during the current turn, note that this will be hidden until simultaneously revealed in Cyberboard.Players (and their army) start in the area indicated in the character list above (the exact location must be picked). In addition Pontus already controls Colchis and Cimmerian Bosporous (if it is not a player) and hence has +4 morale. If Gordyene or Syria are not controlled by a player they are controlled by Armenia who then gets +2 morale each.
Pontus controls Titus (Pamphlagonia) and Bithynia controls Gangra (Pamphlagonia).
Any other vacant player provinces (due to having less than the maximum players) and independent strongholds are filled with independent possession counters that act like the province has a minor garrison.
Turn Sequence
Each turn is made up of the following phases
A) Diplomacy (via email, to a time limit)
B) Allegiance declaration (via Cyberboard, simultaneous)
C) Moves (via Cyberboard, simultaneous)
D) Battles (with DBMM, by arrangement between the players, results emailed in)
E) End of turn victory check (everyone is emailed a new game turn & starts diplomacy)
Diplomacy
This is optional and between players, note that Roman players cannot change allegiance but have no overall command structure, each is independent and how much they co-ordinate is up to themselves.
Allegiance Declaration
Roman players automatically have allegiance to Rome. Pontus and Armenia must always be independent. Other client state and independent players may declare allegiance to Rome or independence. At the end of this phase all players have declared their allegiance, forming two opposed parties. Each player selects an appropriate allegiance counter in Cyberboard as part of their turn. They also declare any allied commands they have sent to other players this turn.
Allies
By default you cannot use foreign allied commands that are included in your DBMM army list during the campaign. There are 5 circumstances in which you can use allies during the campaign:
- If a player controls at least one location in Paphlagonia or Galatia then he may take allied troops as part of his army using whatever AP he has available. The allied Paphlagonian army list is embedded in the Bithynian (post 179BC) list.
- If you now control a non-Roman player's original province then you can pick an allied command from its army list.
- Galatians can use the Psidian ally in their list.
- Player allies - If a player remains stationary then they can send one allied force of up to 100AP to one other player for one turn. The two players' armies must start the turn within 6MP of each other. NB the sending player decides on the composition of the ally. However if the sending player must fight a battle that turn then the same number of AP are subtracted from his own army. If the allied contingent is on the losing side of a battle then the sending player also loses 1 morale point.
Strategic Moves
All moves are simultaneous, made in Cyberboard on the virtual game-board and submitted by email. They are always made as "plotted moves".
Each player can normally move his army 3 movement points (MP). A player can declare a forced march and move 6 MP instead, but this will cost 1 point of army morale (see above). A player can also declare his movement to be "cautious" when he is trying to avoid battle. (Place a "cautious" counter on the army in Cyberboard).
1 MP will move the army between 2 board locations connected by a solid line or across a sea (see Naval rules below). A dashed line requires 2MP. An army may not end its move at a transit point.
Besieged armies (see below) can only move if in a port city on a sea in which the besieger does not have naval supremacy, exiting the city by sea at a cost of 1 morale point.
Army Interactions
An army's starting location and all other locations passed through this turn form its "area of operations" (AO). If 2 or more enemy armies have AO's that overlap it will potentially cause a battle. Resolve overlaps from the army that has AO overlaps with the most enemy armies to the least, randomly breaking ties. If an army overlaps AOs with 2 or more enemy armies then check for battle with the enemy that started the turn closer (in MP) first, randomly breaking ties, then if no battle occurs check for the subsequent overlaps. Once an army as been assigned to a battle it is eliminated from this procedure (i.e. discount its AO overlaps with any other armies):
· If neither army is "cautious" then a battle takes place, see "setting up a battle" below.
· If both armies are "cautious" no battle takes place unless they end their move in the same location, in which case see "setting up a battle" below.
· If only one army is cautious, it tries to evade battle and loses a morale point (if it has not already evaded this turn), and rolls a D6: on a 3-6 it escapes unless the armies end in the same location, in which case battle is forced anyway, see "setting up a battle" below.
Battle location: If both armies end their move in the same location, the battle takes place there, otherwise it is in a randomly determined overlapping location.
Final interceptions: in a random order, any non-cautious army which is not now fighting a battle and has an enemy army within 1MP of land movement who is also not fighting a battle will now try to force battle. Roll a D6: on a 1-3 it forces battle and is moved into the enemy location. If the enemy is cautious, add 2 to the die roll and remove 1 morale point from the enemy for evasion if it has not already evaded this turn.
If 2 friendly armies end in the same location they (and any enemies fighting battles with them) are both moved back along their last turns movement path until they find a legal location to stop. Roman armies are moved first.
Once all army interactions are executed,battles are then resolved.
Setting up a Battle
Battles are resolved using DBMM 2.0 and may be either open battles as per the DBMM rules or sieges which use some special rules below. It is a siege if it was a siege last turn and neither army has moved or if a cautious army is brought to battle in a friendly location or an un-garrisoned enemy location. Otherwise it is an open battle.
AP: Each army is designed for the current battle with 300AP + (20 x Current Morale) AP of troops. In addition you get a bonus of 20AP of troops for battles in a friendly location in a friendly province. Plus you get the AP of any player-supplied allied contingents. If one side has less AP than another they may concede a major victory without fighting (this is to avoid playing gross mismatches, if a player wishes). If both armies are greater than 500AP the game is played on a 120x210cm table.
Aggression: If an army is besieged or if is the only one that started this turn in the current, friendly province then it is automatically the defender. Otherwise invader/defender is rolled as usual but no aggression value is added to the die roll.
Terrain: Use the appropriate terrain list for the province (ie the army list with the same name), with the exceptions: Pontus = Mithridatic list, Asia = Attalid Pergamene list, Osrone = Arabo-Aramean (Edessa) list, Cimmeran Bosporos = Bosporan list, Macedonia = Later Macedonian list, Achaea = Hellenistic Greek.
Season is picked as per DBMM rules. Battles shall all have a minimum of 10 pairs of bounds played. The battle will end with a major or minor victory (draw).
Major victory means that only one army is broken. The losing player loses 1 morale point for each full 10VP earned by the winner. If his army does not disband then it reappears next turn in the closest unoccupied friendly major city. If there are none it is eliminated. The winner stays in the location and gains 1 morale point.
Minor victory is any result where no army (or both armies) broke. The winner is the player scoring more VP. The loser must withdraw and loses 1 morale point.
Withdrawals: these must be to a random empty adjacent location (and not the one the other player came from or a transfer point). If there are no available areas, the army loses another morale point and is treated as suffering a major defeat. In the case of withdrawals from multiple battles perhaps reducing the number of available locations withdrawals will be conducted in the order that the results of the battles are received.
Losses: The DBMM v2 campaign losses rules are not applied, instead the campaign army "morale" system is used to factor in any losses.
Sieges
If both armies are cautious then no actual battle takes place, instead the siege continues and the besieged army loses 1 morale point unless in a port on a sea where the besieger does not have naval supremacy, the besieger loses 1 morale point if it gets 1 or 2 on a D6.
If both armies are non-cautious then fight an open battle with the besieger as the invader.
A non-cautious besieging army vs a cautious defender will attempt to storm the city. In this case fight a battle where the defender (the besieged) must take a 2FE BUA surrounded by PF with at least 4 gates or 3 gates if a port. These PF must be paid for from the besieged army's AP. A Sea is also mandatory terrain if the city is a port. Unlike a normal DBMM game, the defender is automatically broken at the end of a turn if the invader has moved an element to the centre of the BUA.
A non-cautious defender vs a cautious besieger will sortie. Fight a battle as for "storming a city" above but counting as a night attack* to represent surprise on the besiegers. (* Re-roll the battle start time until a night attack is indicated).
A besieged army cannot receive allies except as a DBMM flank-march. For all siege related battles (even open battles between non-cautious armies) a minor victory for the besieger forces the defender back into the city and the siege continues. Any other result ends the siege.
End of Turn Victory Check
First change any location control markers (see "occupying provinces" below) and adjust morale due to any changes of ownership of provinces.
Players check if the game is over by having played the last turn due to exhausting the time allocated for the campaign (End February 2011), or if there is only one army in Anatolia or if there are only Roman players on the map, all others being eliminated.
A player may retire and cede his possessions to Rome or independence (place appropriate control markers on them). He re-enters the game as a Roman after 1 turn.
Special Rules
Occupying Provinces: If you control > 50% of the cities in a province and then you control the province. In the absence of an enemy army or garrison any space that only your army moves through or remains in at the end of the turn automatically becomes controlled by you. Spaces that 2 armies move through are controlled by no-one.
If an army starts and ends its turn in an enemy location that is garrisoned it automatically takes control for no loss. If an army only ends the turn in an enemy location that is garrisoned: a non-cautious army with more than 1 morale points will storm the city to control it for a cost of 1 morale point. Exception: to take Rhodes you must have naval supremacy in the mare internum and roll a 6 on a d6.
All provinces owned by players on the same side as you are considered friendly.
Independent stronghold locations count as being garrisoned and if they ever become uncontrolled by any player, they revert to independent control.
Super-Simple Naval Rules: There are only 2 sea areas in the game, the "Mare Internum" and "Pontus Euxines". The ports between the two straits seperating Europe and Asia are considered to be on both seas.
The independent side starts the game with naval supremacy in both the "Mare Internum" and "Pontus Euxines". If Rhodes is not controlled by Pontus, when the second new Roman general enters the game the independents lose naval supremacy in the "Mare Internum", when the province of Pontus is controlled by the Romans they gain naval supremacy in the "Pontus Euxines" and the "Mare Internum".
When moving an army that starts the turn in a port can use 1MP to move from any port to any other port on the same sea if that side has naval supremacy on the sea.
Imitation Legionaries: Any army (not allied command) that has fought a battle against Romans can have 0-8 Reg Bd(I) replacing any mandatory foot in subsequent battles. This is cumulative so after 2 battles vs Romans you can have 0-16 Reg Bd(I).
Roman Reinforcement Generals: If not already playing the replacement Roman generals are: Sulla (87BC), Lucullus (in Asia, 74BC), Pompey (in Asia, 64BC), Unnamed generals (in Asia 63BC). Roman generals re-enter the board at Illyricum and must march to the action.